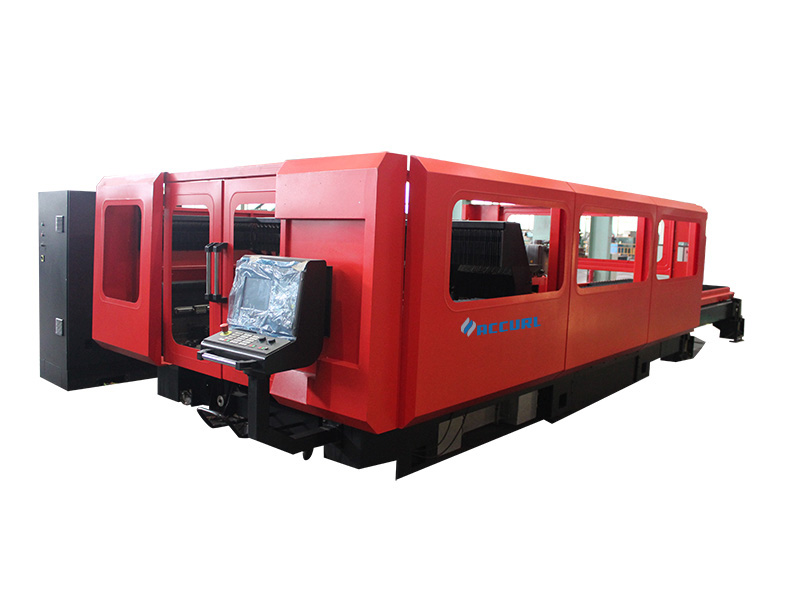 Detalles rápidos
---
Aplicación: Corte por láser
Estado: Novo
Tipo láser: láser de fibra
Material aplicable: metal
Cutting Thickness: 10mm carbon steel
Área de corte: 1500 * 3000mm
Velocidade de corte: 35m / min
CNC ou Non: Si
Modo de refrixeración: Refrixeración por auga
Software de control: Cypcut
Formato gráfico compatible: AI, BMP, DST, DWG, DXF, DXP, LAS, PLT
Certification: CE, ISO, SGS, PDA
Servizo posvenda: Enxeñeiros dispoñibles para maquinaria de servizo no exterior
Product name: sheet Metal Laser Cutting Machine Price
Función: Corte de materiais metálicos
Laser power: 500W / 1000W / 2000W
Working area: 1500X3000mm
Color: white-gray
Tipo: Corte de fibra lasr
Model: F1530/F1540
Keyword: cnc router sheet metal fiber laser cutting machine price 500w 1000w
Descrición do produto
---
1. Characteristics of máquina de corte con láser de fibra1. Application of gantry structure and integrated cast cross-girder to achievehigher rigidity, stability, shock resistance.
2. High-performance laser source and stable operating system which make the best cutting effect.
3. The machine owns perfect cooling system, lubrication system and dust removal system, to ensure that it can operate stably, efficiently and durably.
4. The machine is capable of automatic height adjustmentto maintain constant focal length and stable cutting quality.
5. The machine is used for cutting a variety of metalswith excellent and stable cutting quality.
6. The specialized CAD / CAM automatic programming software and automatic nesting software aim to maximally save raw materials.
7. Access to the CNC system through Ethernet interface makes communication andremote monitoringpossible during the laser cutting process.
NO.2 Campo de aplicación da máquina
Materiais de aplicación:  Máquina de corte con láser de fibra é adecuado para cortar metais con folla de aceiro inoxidable, chapa de aceiro leve, folla de aceiro ao carbono, chapa de aceiro, chapa de aceiro de primavera, chapa de ferro, ferro galvanizado, folla galvanizada, placa de aluminio, folla de cobre, folla de latón, placa de bronce, placa de ouro, Placa de prata, chapa de titanio, chapas metálicas, chapas metálicas, tubos e tubos, etc.
2.Application Industries: ACCURL Máquinas de corte con láser de fibra son amplamente empregados na fabricación de cartelería, publicidade, letreiros, sinalización, cartas metálicas, cartas LED, cociña, cartas publicitarias, procesamento de follas de metais, compoñentes e pezas de metais, ferraxes, chasis, procesadores de gabinetes e armarios, artesanía metálica, metal arte almacén, Corte de paneis elevadores, ferraxes, pezas de automóbiles, marco de lentes, pezas electrónicas, placas de identificación, etc.
CNC 1kw 2kw 3kw 4kw Fiber Metal Laser Cutting Machine
Modelo
F1530
Área de traballo
1500 * 3000mm
Laser Output Power
500W/700W/800W/1000W/1500W/2000W/2500W/3000W
Precisión de posicionamento
0,03 mm
Precisión de reposición
0,02 mm
Velocidade de desprazamento máxima
100m / min
Velocidade máxima de corte
35m / min
Servizo de pre-venda
* Atención á consulta e consultoría.
* Soporte para probas de mostras.
*English technical to door service.*English manual and Video CD for machine using and maintenance.*We offer free training in our factory, welcome to visit and learn more about our machines.
*Three years warranty for machine.
Servizo postvenda
Training to install :
A.We will supply the machine with training video and user's manual in English for installing, operation, maintenance and trouble-shooting, and shall give technical guide by e-mail, fax, telephone/SKYPE/ICQ and so on, when you meet some problems of installation, using or adjusting.
B.You can come to our factory for training.
We will offer professional guide. Direct and effective face-to-face training. Here we have assembled equipments, all sorts of tools and testing facility,we will also provide accomadation during training period.Training Time: 5 working days.
WIFI Wireless Control
For speedy service, we add WIFI function for our technician to operate troubleshooting and adjust parameters remotely.
Check laser source parameters to analyze failure causes. Check cutting parameters to analyze and adjust new parameters.
Suíza RAYTOOLS Cabeza láser
Rotary Knob type focus point adjustment for fine and flexible adjustment. Adjustable range: 20mm, accuracy: 0.05mm.Drawer type mirror seat to make protect glass replacing faster and easier.Both collimating lens and focal lens could apply compound lens for optimal optical quality and cutting result. Modular design with optional collision-proof protective devices or pneumatic knife to realized swiftly switch between welding and cutting. Optional magnetic collision-proof protective modular that would activate reliable separation and immediately light off in case of collision.
France MOTOREDUCER
Satellite gears are double-supported on hardened and ground shafts with full-complement needle bearings increasing torsional stiffness. Backlash ≤ 3 arcmin.Standard operating temperature range is -15℃ to 45℃. Protection rated IP 65 standard.
Xapón Yaskawa Servo Motor
The increased power demands of large automation components utilize the robust performance of SGM7G.These servo motors are built with a compact footprint, yet provide a higher torque while maintaining an inertia rating well within the medium range.
Compoñente electrónico de Schneider Francia
Protección de circuítos contra correntes de curtocircuíto, protección de circuítos contra correntes de sobrecarga, interrupción e desconexión industrial segundo as normas IEC / EN 60947-2.Resistencia de voltaje, limitación de alto rendemento, para pechar rápido independientemente da velocidade de accionamento do conmutador.
Xapón compoñentes pneumáticos SMC
Control continuo da presión do aire proporcional a un sinal eléctrico. Especificacións de comunicacións aéreas.Compacto / lixeiro (pezas de comunicación integradas).
Japan NSK Bearings
These bearing housings have square flange which can be easily attached to a machine with four bolts.With its simple mounting face, this bearing unit is widely used.
Automatic Lubrication System
Electrical lubrication is a kind of gear pump with rational construction, great performance and comprehensive functions.By connection with program control system in the main machine, the lubrication system could oversee oil level within tank as well as oil transmission pressure and set lubrication periodicity, which will effectively prevent rust within lubrication system to ensure cutting accuracy.
Dust removal system
(40-80L/min)
Cooling system (Water)
Two-temperature dual-control: high-temperature water to the laser head, low-temperature water to the specific models of fiber: CW-6100, CW-6200, CW-6300
Embalaxe e entrega
---
Packaging
Tamaño
4.48(L) * 2.21(W) * 2.1 (D)
Peso
3.8 T
Packaging Details
The normal package is wooden box(Size: L*W*H). If export to european countries,the wooden box will be fumigated.If container is too tigher,we will use pe film for packing or pack it according to customers special request.
We can send machine to your port or door addressby sea or airplane.Please kindly tell us your near port or address with postcode.We have reliable shipping agent to insure the safe,convenient and timely delivery.
FAQ
---
Q: How can I get the best machine for our business?
A: Just let us know your cutting material, thickness, and working area needed, we will suggest the most suitable machine and professional solution.
Q: This is my first time using this kind of machine, is it easy to operate?
A: Of course the machine is easy to operare. We will send you the English version user manual and install video which shows how to assamble and use the machine clearly, almost all the customers can operate the machine easily. No need to worry about this, after all, Bodor will always be here to help!
Q: If the machine has problem in my place, how could I do?
A: Usually there won't be any problem under "normal use" as per the user manual. But in case you have any problem, our professional after-service team will provide you any support you need any time!
Q: This model is not suitable for me, do you have more models available?
A:Sure, in order to meet different customers' different requirments, we reserched many other different models.If you want to cut only metal tube, we have T series.If you want to cut only metal plates, we have F series.If you want to cut both metal tube and plate, we have F-T series.If your country is strict on environment and safty, we have P series (with protective cover)If you want to save manpower, we have A series (with automatic loading onloading device)
máquina de corte por láser cnc metal