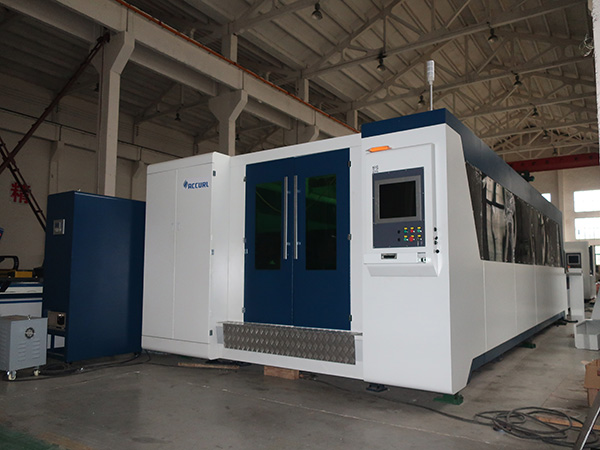 What is the detail of our product?
---
1. Máquina de corte con láser de fibra used for IPG Laser Source
2. Germany imported Precitec Cutting Head (fiber special)
Non-contact automatic tracking system, able to automatically adjust most efficiency focal length that guaranty the best cutting quality, prevent material scrapping caused by changing of focal length when metal is not flat.
Due to non-contact sensing device When controlled by system, able to achieve stable Z axis floating function, eliminate negative effects caused by non-flat material, leading CNC fiber laser cutting machine to higher cutting quality.
3. Working Table
45mm Steel side board 25mm metal sheet strength weld Strict test keep precision within 5um 3015 running speed reach to 120M/min Weight over 11.8 ton.
Equipped with heavy loading require gantry axis 2 motor synchronous driving the same axis, ensure the high dynamic performance 120M/min, two driver, synchronous high speed move.
5.High power fiber laser dual driving system
Laser adopt imported gear rack driving, bilateral linear guide; And the original import servo motor drive system, to ensure its high-speed motion state of the machine precision. Stable fast running Fast speed running, working table still stay steady, less shaking and better cutting quality.
6. Advanced Exhaust System
Instead of strong overall dust pumping system, we have 6 dust extracting door While cutting, the nearest dust sxhaust door to the cutting head will start work ---Save energy ---Better pumping effect.
7. Imported Germany software & hardware
Powerful functions High compatibility Good Afterservice (If with PA software, panasonic or YASKAWA servo motor would cause bad compatibility and poor afterservice)
Parámetros técnicos
---
| | |
| --- | --- |
| Potencia láser | 500w-3000W |
| Tipo láser | import fiber laser |
| Laser wave | 1070nm |
| Processing scale | 3000mm × 1500mm |
| X axis stroke | 3000 mm |
| Y axis stroke | 1500mm |
| Z axis stroke | 120 mm |
| Precisión de localización | ± 0,03 mm / m |
| Precisión de re-localización | ± 0,02 mm |
| Worktable max load | 1600kg |
| Demanda de enerxía | 380V / 50Hz |
| Forma de refrixeración | water cooling |
| Velocidade máxima | 60m / min |
| Cutting area | 0.2-20mm |
| Peso | 11T |
| Outline size | 9320*3280*2130 |
Os nosos Servizos
---
Warranty and service
One year warranty for machine. English technical to door service.
English manual and Video CD for machine using and maintenance.We offer free training in our factory,
welcome to visit and learn more about our machines.
Free accessories :Software ,manual, book, cd videos, PCI control
1.Pre-sales servizo
A. Free sample making
Para a realización / proba gratuíto de mostras, envíe as súas mostras ou produtos de gráficos gráficos a CAD para a nosa empresa en China. Proba antes de mercar.
B. Progressing Solution Design
According to customer's product processing requirement, we can design the unique solution that supports higher manufacturing efficiency and better processing quality for customer.
2.After-sales servizo:
Training to install(3options):
A. We will supply the machine with training video and user's manual in English for installing, operation, maintenance and trouble-shooting, and shall give technical guide by e-mail, fax, telephone/MSN/ICQ and so on, when you meet some problems of installation, using or adjusting.
B. You can come to our factory for training. Tianqi Laser will offer professional guide. Direct and effective face-to-face training. Here we have assembled equipments, all sorts of tools and testing facility,we will also provide accomadation during training period.Training Time: 10working days.