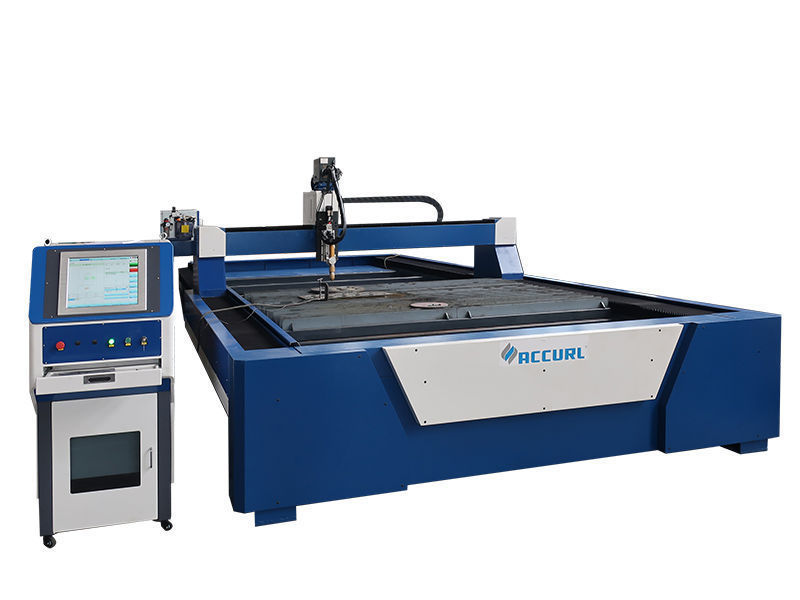 63/100A cnc Plasma Cutting Machine manufacturer Features
---
1. 63/100A CNC plasma cutter machine adopts light-weight structural design, the structure has good rigidity, light weight and small motion inertia.
2.Gantry-type structure. Y axis adopts synchronous double-motor and driver, and X,Y,Z axises adopt linear guideways, stable transmission and high operational precision.
3.Mainly cut Three-dimensional LED advertising word, metal plates with groove characters and baseboards, and cutting accuracy lives up to excellent index
4.Small cutting holes, tidiness and no-residue phenomenon, avoids shaping process at second time.
5.Fast cutting speed, high precision and low cost.CNC system with high configuration, automatic arc strike and stable performance, with above 99% arc strike success rate.
6.Support for standard G code path files which are generated by softwares such as Artcut, Artcam, Type3. DXF format files generated by softwares such as AUTOCAD can also be read through software transform. The controlling system adopts U disk to exchange processing files, operation is convenient and speedy.
7.Plasma CNC Cutting Machine Huayuan 63/100A power source and burning torch are equipped with famous domestic brands. and they are manufactured by factories with multi-termed national patent technology
Parámetro técnico 
---
Working Area: 1300*2500mm
Warranty: 12 Month
Cutting Speed: 8000mm/Min
Control System: Start Control System
Processing Materials: Iron, Aluminum, Stainess Steel
Plasma Power: 65-200A
Worktable: Blade Worktable
Cutting Thickness: 0.1mm-30mm
Input Voltage: 3-Phase 380V
Guide Rail: Taiwan Hiwin Liner Guide
Transport Package: Plywood Case
Specification: CE Standard
Código HS: 8456100090
Parámetro do modelo
cnc plasma cutter machine
Modelo
DEK-1325P
DEK-1530P
DEK-2040P
Tamaño de traballo
1300 * 2500mm
1500 * 3000mm
2000 * 4000mm
Tres eixes. Repite a precisión do posicionamento
± 0,05 mm
Precisión do proceso
± 0,35 mm
Sistema de transmisión
X, Y Taiwán Hiwin de alta precisión, liberación cero aumentou guía lineal + cremalleira
Z o control de tensión de arco
Máx. velocidade de corte
15000mm / min
Tensión de traballo
AC380 / 50HZ
Sistema de control
Pequeno sistema de corte de plasma de Beijing
Dispositivo estándar de alta tensión con arco de alta sensibilidade
Soporte de software
FASTCAM, AutoCAD,
Formato de instrucións
Código G
Sistema de accionamento
Motor stepper (opcional, motor AC de Taiwán)

Potencia plasmática

Huayuan doméstico 63A-200A
Importou EU Powermax 63A-200A
Capacidade de corte de enerxía
Huayuan doméstico 0,5-30 mm
US Powermax serie 0,5-50 mm
 63A , 0.3- 8mm cutting thickness
100A, 0.3-18mm cutting thickness
160A, 0.3-25mm cutting thickness
200A, 0.3-35mm cutting thickness
Presión de traballo
0.65-0.8Mpa
Aplicacións
---
CNC Plasma Cutter machines are widely used for cutting Stainless Steel, Carbon steel, structure steel, Aluminum, Iron, Galvanized sheet, Titanium plate, M.S. plate for signs, architectural components, fabrication units etc.
Application Industry:Sheet metal, kitchenware, components, decorations industry.
FAQ
---
1.Como podería saber se esta máquina é axeitada para min?
Before ordering, we will provided every details of the machine for your reference, or you could tell us your work piece, our technician will recommend the most suitable machine for you. Furthermore, we can make a sample in advance for you to check if your drawing is provided.
2. if the machine problems, how do you provide service?
First of all, we will immediately begin to give you solve the problem, if need to staff in the past to help solve, our stone carving machine after-sales staff will arrive within 3 working days (according to the distance).
3.how do you do what stone carving tools, how to get enough.?
CNC engraving need cutting tools, we generally do not directly provide, we will call you from A partner, ordering tool directly by you. We try not to do, in order to reduce misunderstanding
4. Se a máquina ten problemas, que podes facer para axudar?
Free parts will send to you within warranty time, and there are 24/7 technique support by mail and phone. Our after-sales staff can come to your workshop if the problem still can not be fixed.
5.how long does it take to machine a square meters relief?
Engraving machine working efficiency and the complexity of the design, processing depth, material processing and ease. So bad time estimates, carved in our company sample page with related practical sampling data for your reference.
Training to Customer:
---
1).We will supply with the machine operation manual in English version For :installation and operation, including introduction for the composing of equipment, working principle of equipment, common knowledge of computer, controlling principle of electric devices, daily maintenance measures of equipment. Personal demonstration for installation and adjusting of equipment, operation of equipment, programming of computer.
2). User can dispatch representatives to our factory for 2-3days for training. We are responsible for training them free of charge. While all the charges Including travelling charge and accommodation will be afford by the user.
Máquina de corte de plasma 3d
,
máquina de corte de plasma cnc tipo gantry